Prince Imperial--Last image.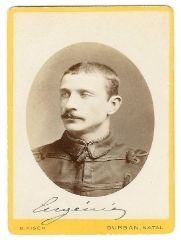 Taken in Durban, Natal and signed by the Empress likely in 1880 when on her Zululand pilgrimage.
The Martini Henry Morris Tube
April. 2015 A tribute to the memory of the 1st Lt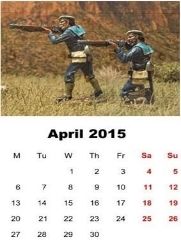 Fair Use Notice
Fair use notice. This website may contain copyrighted material the use of which has not been specifically authorised by the copyright owner. We are making such material and images are available in our efforts to advance the understanding of the "Anglo Zulu War of 1879. For educational & recreational purposes. We believe this constitutes a 'fair use' of any such copyrighted material, as provided for in UK copyright law. The information is purely for educational and research purposes only. No profit is made from any part of this website. If you hold the copyright on any material on the site, or material refers to you, and you would like it to be removed, please let us know and we will work with you to reach a resolution.
What lead to the Anglo - Zulu War and what was its legacy.
| | |
| --- | --- |
| 30 Year Comparison of medal prices: Zulu War medals over-priced? | |

Author
Message
tasker224





Posts

: 2105


Points

: 2329


Join date

: 2010-07-30


Age

: 48


Location

: North London



Subject: 30 Year Comparison of medal prices: Zulu War medals over-priced? Mon Feb 21, 2011 9:35 pm

---

Looking back at medal prices 1980 - 1982 in old catalogues, a RD/iSandlwana medal back then would have cost £300 - £330 (no distinction between a RD defender or an iSandlwana casualty, and this just a 50% premium on a standard Zulu medal).
To put this in perspective, a RD/iSandlwana medal would have cost the same as a standard 3 bar Indian Mutiny (not an original Lucknow defender), the same as a 5 bar 1882 Egypt medal, the same as a Thin Red Line medal to the 93rd at Balaklava and the same as an Ava or Bhurtpoor bar to an Army of India medal.
A third of the price of a Light Brigade Charger.
Half of a Trafalgar bar NGSM.
Twice that of an average Waterloo medal.


Since then and over the past 30 years, in order of least to largest increase in value, if you had invested in a standard medal for:

Army of India (Ava or Bhurtpoor) it would have increased in value by approximately,,,,,,,,,,,,,,,3x
Queens Sudan, Boer War pair,,,,,,,,,,,,,,,,,,,,,,,,,,,,,,,,,,,,,,,,,,,,,,,,,,,,,,,,,,,,,,,,,,,,,,,,,,,,,,,,,,,,,,,,,,,,,,,,,4x
Military or Naval GSM 1793, Egypt 1882 (5 bar or Abu Klea) ,,,,,,,,,,,,,,,,,,,,,,,,,,,,,,,,,,,,,,,,,,,,,,,,,,5x
Waterloo,,,,,,,,,,,,,,,,,,,,,,,,,,,,,,,,,,,,,,,,,,,,,,,,,,,,,,,,,,,,,,,,,,,,,,,,,,,,,,,,,,,,,,,,,,,,,,,,,,,,,,,,,,,,,,,,,,,,,,,,,,,,,,,,,,,8x
Trafalgar Naval GSM,,,,,,,,,,,,,,,,,,,,,,,,,,,,,,,,,,,,,,,,,,,,,,,,,,,,,,,,,,,,,,,,,,,,,,,,,,,,,,,,,,,,,,,,,,,,,,,,,,,,,,,,,,,,,,,10x
RD/iSandlwana,,,,,,,,,,,,,,,,,,,,,,,,,,,,,,,,,,,,,,,,,,,,,,,,,,,,,,,,,,,,,,,,,,,,,,,,,,,,,,,,,,,,,,,,,,,,,,,,,,,,,,,,,,,,,,,,,,,,,,,,25x
???????,,,,,,,,,,,,,,,,,,,,,,,,,,,,,,,,,,,,,,,,,,,,,,,,,,,,,,,,,,,,,,,,,,,,,,,,,,,,,,,,,,,,,,,,,,,,,,,,,,,,,,,,,,,,,,,,,,,,,,,,,,,,,,,,100x

Special prize if you know 100x increase! (Hint: needs to be verified with documentation and in its standard group)







Last edited by tasker224 on Fri Nov 09, 2012 7:21 pm; edited 2 times in total

tasker224





Posts

: 2105


Points

: 2329


Join date

: 2010-07-30


Age

: 48


Location

: North London



Subject: Re: 30 Year Comparison of medal prices: Zulu War medals over-priced? Wed Mar 09, 2011 8:01 pm

---

30 years ago, you could have got a xxxxxxx for £100.

Anyone got a time machine?

tasker224





Posts

: 2105


Points

: 2329


Join date

: 2010-07-30


Age

: 48


Location

: North London



Subject: Re: 30 Year Comparison of medal prices: Zulu War medals over-priced? Fri Nov 09, 2012 7:26 pm

---

With the price of SAG medals still increasing dramatically, I am revising this old comparison.
Seem to be more medal collectors on this site than when I originally posted, so I have deleted the answer to the question I posed in the original thread, so if you have already seen the answer, you are not allowed to spoil the fun of the newer medal collecting members!


Over the past 30 years or so, in order of least to largest increase in value, if you had invested in a standard medal for:

Army of India (Ava or Bhurtpoor) it would have increased in value by approximately,,,,,,,,,,,,,,,4x
Queens Sudan, Boer War pair,,,,,,,,,,,,,,,,,,,,,,,,,,,,,,,,,,,,,,,,,,,,,,,,,,,,,,,,,,,,,,,,,,,,,,,,,,,,,,,,,,,,,,,,,,,,,,,,,4x
Standard 1 bar Military or Naval GSM 1793, Egypt 1882 (5 bar or Abu Klea),,,,,,,,,,,,,,,,,,,,,,,,,,5x
Thin red line Crimea,,,,,,,,,,,,,,,,,,,,,,,,,,,,,,,,,,,,,,,,,,,,,,,,,,,,,,,,,,,,,,,,,,,,,,,,,,,,,,,,,,,,,,,,,,,,,,,,,,,,,,,,,,,,,,,,10x
Waterloo,,,,,,,,,,,,,,,,,,,,,,,,,,,,,,,,,,,,,,,,,,,,,,,,,,,,,,,,,,,,,,,,,,,,,,,,,,,,,,,,,,,,,,,,,,,,,,,,,,,,,,,,,,,,,,,,,,,,,,,,,,,,,,,,,,10x
Trafalgar Naval GSM,,,,,,,,,,,,,,,,,,,,,,,,,,,,,,,,,,,,,,,,,,,,,,,,,,,,,,,,,,,,,,,,,,,,,,,,,,,,,,,,,,,,,,,,,,,,,,,,,,,,,,,,,,,,,,,15x
iSandlwana,,,,,,,,,,,,,,,,,,,,,,,,,,,,,,,,,,,,,,,,,,,,,,,,,,,,,,,,,,,,,,,,,,,,,,,,,,,,,,,,,,,,,,,,,,,,,,,,,,,,,,,,,,,,,,,,,,,,,,,,,,,,,,30x
RD,,,,,,,,,,,,,,,,,,,,,,,,,,,,,,,,,,,,,,,,,,,,,,,,,,,,,,,,,,,,,,,,,,,,,,,,,,,,,,,,,,,,,,,,,,,,,,,,,,,,,,,,,,,,,,,,,,,,,,,,,,,,,,,,,,,,,,,,,,80 - 90x
???????,,,,,,,,,,,,,,,,,,,,,,,,,,,,,,,,,,,,,,,,,,,,,,,,,,,,,,,,,,,,,,,,,,,,,,,,,,,,,,,,,,,,,,,,,,,,,,,,,,,,,,,,,,,,,,,,,,,,,,,,,,,,,,,,,100x




| | |
| --- | --- |
| 30 Year Comparison of medal prices: Zulu War medals over-priced? | |