The Death of Lt. Frith, 17th Lancers.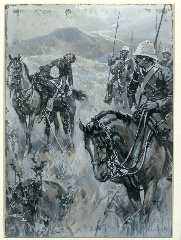 At eZungeni, Zulu War of 1879" original painting by Hermanus Willem Koekkoek (1869-1929) (Isandula Collection)
Isandlwana & Rorke's Drift 22nd January 2019
Fair Use Notice
Fair use notice. This website may contain copyrighted material the use of which has not been specifically authorised by the copyright owner. We are making such material and images are available in our efforts to advance the understanding of the "Anglo Zulu War of 1879. For educational & recreational purposes. We believe this constitutes a 'fair use' of any such copyrighted material, as provided for in UK copyright law. The information is purely for educational and research purposes only. No profit is made from any part of this website. If you hold the copyright on any material on the site, or material refers to you, and you would like it to be removed, please let us know and we will work with you to reach a resolution.
Top posting users this month
| | |
| --- | --- |
| Chelmsford, Pulline. & Durnford | |

Author
Message
Chelmsfordthescapegoat





Posts

: 2572


Join date

: 2009-04-24



Subject: Re: Chelmsford, Pulline. & Durnford Sat Apr 25, 2009 7:25 pm

---

Pulleine had orders from Lord Chelmsford to pull in his infantry close to the camp, which was in accordance with Chelmsford's own standing orders for British troops in camp in enemy territory. Pulleine did not do this or, as was also mentioned in the standing orders, laager his wagons or entrench his position, all things Pulleine had time to form a defensive square, before he was attacked. If he had the troops would have been in close proximity of the ammunition wagons, and could have laid down heavy fire with out the worry of running out of ammunition.

Saul David 1879





Posts

: 526


Join date

: 2009-02-28



Subject: Re: Chelmsford, Pulline. & Durnford Sat Apr 25, 2009 7:44 pm

---

Chelmsford the scapegoat

Chelmsford should have made sure that the camp had been laid out correctly, before he went off chasing shadows.

In fact I think you will find that Chelmsford was the one who said, it would take to long to form a laager and the ground was to hard to entrench. So it was Chelmsford that disobeyed standing orders and not Pulline. And what was those famous words. "But I left a Thousand men to defend the camp"

S.D

Chelmsfordthescapegoat





Posts

: 2572


Join date

: 2009-04-24



Subject: Re: Chelmsford, Pulline. & Durnford Sat Apr 25, 2009 8:02 pm

---

As Commander of the forces in South Africa he would have expected his experienced officers to know exactly what to do when confronted by the enemy, Chelmsford was not there when the camp was attacked. Like I mentioned in my previous post. Pulline had plenty of time to pull the troops in but he failed to do this. One possible explanation for this is that Pulleine's command structure was interfered with by the arrival of Durnford.

24th





Posts

: 1845


Join date

: 2009-03-25



Subject: Re: Chelmsford, Pulline. & Durnford Sat Apr 25, 2009 8:32 pm

---

No orders were ever given to Durnford to take command.

old historian2





Posts

: 1096


Join date

: 2009-01-14


Location

: East London



Subject: Re: Chelmsford, Pulline. & Durnford Sat Apr 25, 2009 10:58 pm

---

Chelmsford should never have divided the column. I understand that sighting of the Zulu had been reported on quite a few accounts, one being from Chard at early stages before the attack.

Chelmsford was in no hurry to get back, just in-case something was found on Durnford's body that would incriminate him, how convenient to arrive at Isandlwana during darkness.

And then issued an order that no one was to walk about to save them from the ghastly sights.
It was to ensure no one found anything, only certain officers were allow movement, no doub't looking for a particular body to remove evidence.

Chelmsfordthescapegoat





Posts

: 2572


Join date

: 2009-04-24



Subject: Re: Chelmsford, Pulline. & Durnford Sun Apr 26, 2009 8:05 am

---

On the morning of the 22nd January, Colonel Durnford was ordered to march up from Rorke's Drift , with his contingent of about 400 natives (both foot and mounted) and a rocket battery. He arrived at the camp early morning. Durnford - as senior - was supposed to take over command of the camp. Chelmsford most certainly would not have ordered Durnford to the front if he did not intended for him to take command, its military common sense.

ADMIN





Posts

: 3841


Join date

: 2008-11-01


Age

: 60


Location

: KENT



Subject: Re: Chelmsford, Pulline. & Durnford Sun Apr 26, 2009 10:47 am

---

There is still much debate over whether Durnford - as senior - was supposed to take over command of the camp or whether he believed his orders were to support Chelmsford's advance. The orders were vague.

Chelmsfordthescapegoat





Posts

: 2572


Join date

: 2009-04-24



Subject: Re: Chelmsford, Pulline. & Durnford Sun Apr 26, 2009 6:36 pm

---

Just wanted to say. What a lovely day its been, Summer here at last.


Statement of Lieutenant-Colonel J. North Crealock, Acting Military Secretary.

Soon after 2 A.M. on the 22nd January I received instructions from the Lieutenant-General to send a written order to Lieutenant-Colonel Durnford, R.E., commanding No. 2 Column, to the following effect " Move up to Sandhlwana Camp at once with all your mounted men and Rocket Battery—take command of it. I am accompanying Colonel Glyn, who is moving off at once to attack Matyana and a Zulu force.

old historian2





Posts

: 1096


Join date

: 2009-01-14


Location

: East London



Subject: Re: Chelmsford, Pulline. & Durnford Sun Apr 26, 2009 7:10 pm

---

Well this certainly puts things in a different light. So are we saying that Durnford should have taken command of the camp at Isandlwana. From what I have read about Crealock he was quite a creditable fellow. So what was Durnford playing at. To busy trying to impress Chelmsford.

John





Posts

: 2555


Join date

: 2009-04-06


Age

: 56


Location

: UK



Subject: Re: Chelmsford, Pulline. & Durnford Sun Apr 26, 2009 7:20 pm

---

Old Historian I'm in the same boat I did not know this either. See we are both new to this.
Chelmsford the scapegoat. I take this is an actual statement from Crealock. Who is stating that he sent this order to Durnford.
I know Chelmsford and Durnford didn't have the time of day for each other but this is a blatant disregard of orders from a senior ranking officer. And could have made a big different at the camp of Isandlwana.

Chelmsfordthescapegoat





Posts

: 2572


Join date

: 2009-04-24



Subject: Re: Chelmsford, Pulline. & Durnford Sun Apr 26, 2009 7:40 pm

---

Old Historian and John that's why forums like this are beneficial we learn something.

But this was common knowledge, and of course caused a great deal of stress to Lord Chelmsford especially in the public eye.
Chelmsford could not believe what had happen, which leads to those famous words (I left a thousand men to defend the camp)

Chelmsford of course thought that Durnford had obeyed his orders and took command of the camp.

A major problem for Chelmsford is that Durnford was dead, so he could not say why he had disobeyed his orders. He might well have had a good excuse. But we will never know. But It was a great relief for Chelmsford when he rode to Rorkes Drift the following day. But the Officers there had obeyed their orders.

24th





Posts

: 1845


Join date

: 2009-03-25



Subject: Re: Chelmsford, Pulline. & Durnford Sun Apr 26, 2009 7:43 pm

---

I'm going to sit on the fence and watch this one

littlehand





Posts

: 7072


Join date

: 2009-04-24


Age

: 50


Location

: Down South.



Subject: Re: Chelmsford, Pulline. & Durnford Sun Apr 26, 2009 8:38 pm

---

24th Move along I'll join you. Bit out of my league.

Saul David 1879





Posts

: 526


Join date

: 2009-02-28



Subject: Re: Chelmsford, Pulline. & Durnford Sun Apr 26, 2009 9:19 pm

---

C.T.S

Yes this is correct, but you left out the important bit. Here it is again.

1. Soon after 2 A.M. on the 22nd January I received instructions from the Lieutenant-General to send a written order to Lieutenant-Colonel Durnford, R.E., commanding No. 2 Column, to the following effect
(I copied it in my note-book which was afterwards lost): " Move up to Sandhlwana Camp at once with all your mounted men and Rocket Battery—take command of it. I am accompanying Colonel Glyn, who is moving off at once to attack Matyana and a Zulu force

And the bit you missed off (I copied it in my note-book which was afterwards lost): Now wasn't that convenient.

Crealock had a comfortable life during the AZW. Just as long has he said how high, when Chelmsford said Jump.

S.D

Chelmsfordthescapegoat





Posts

: 2572


Join date

: 2009-04-24



Subject: Re: Chelmsford, Pulline. & Durnford Sun Apr 26, 2009 9:48 pm

---

S.D Lieutenant Cochrane, 32nd Regiment was with Durnford when they entered the camp.

5th Evidence.—Lieutenant Cochrane, 32nd Regiment, states: "I am employed as transport officer with No 2 Column, then under Colonel Durnford, R.E., on the 22nd January, 1879, the column marched on that morning from Rorke's Drift to Isandlwana in consequence of an order received from the Lieutenant General. I do not know the particulars of the order received. I entered the Isandlwana camp with Colonel Durnford about 10 A.M., and remained with him as Acting Staff Officer. On arrival he took over command from Colonel Pulleine, 24th Regiment. Colonel Pulleine gave over to Colonel Durnford a verbal state of the troops in camp at the time, and stated the orders he had received, viz., to defend the camp, these words were repeated two or three times in the conversation."

Cochrane, is saying that Colonel Durnford took over command from Colonel Pulleine, 24th Regiment.
So if no order was given as Crealock States why would Cochrane say this.

Saul David 1879





Posts

: 526


Join date

: 2009-02-28



Subject: Re: Chelmsford, Pulline. & Durnford Sun Apr 26, 2009 10:47 pm

---

1st Witness.— Major Clery states: I am Senior Staff Officer to the 3rd Column, commanded by Colonel Glyn, C.B., operating against the Zulus.

The General first ordered me to write to Colonel Durnford, at Rorke's Drift, to bring his force to strengthen the camp, but almost immediately afterwards he told Colonel Crealock that he (Colonel Crealock) was to write to Colonel Durnford these instructions, and not I. Before leaving the camp, I sent written instructions to Colonel Pulleine, 24th Regiment, to the following effect:—" You will be in command of the camp during the absence of Colonel Glyn; draw in (I speak- from memory) your camp, or your line of defence"—I am not certain which-"while the force is out: also draw in the line of your infantry outposts accordingly; but keep your cavalry vedettes still far advanced." I told him to have a wagon ready loaded with ammunition ready to follow the force going out at a moment's notice, if required. I went to Colonel Pulleine's tent just before leaving camp to ascertain that he had got these instructions, and I again repeated them verbally to him. To the best of my memory, I mentioned in the written instructions to Colonel Pulleine that Colonel Durnford had been written to to bring up his force to strengthen the camp. I saw the column out of camp and accompanied it.

Note: Not once does Clery mention (Take Command of the camp) He is very careful when choosing his words.

Let analyse: The General first ordered me to write to Colonel Durnford, at Rorke's Drift, to bring his force to strengthen the camp. (Chelmsford wanted Durnford to strengthen the camp, not take command)

Immediately afterwards he told Colonel Crealock that he (Colonel Crealock) was to write to Colonel Durnford these instructions. ( No mention of the original instructions to Clery being altered)

Before leaving the camp, I sent written instructions to Colonel Pulleine, 24th Regiment, to the following effect:—" You will be in command of the camp during the absence of Colonel Glyn;
(Surly he would have said. Until Colonel Durnford arrived, if Chelmsford had meant for Durnford to take command)

I mentioned in the written instructions to Colonel Pulleine that Colonel Durnford had been written to
to bring up his force to strengthen the camp.
(Again to strengthen the camp. Not take command)

S.D

24th





Posts

: 1845


Join date

: 2009-03-25



Subject: Re: Chelmsford, Pulline. & Durnford Mon Apr 27, 2009 8:05 pm

---

Is this the Western front. ?
Because it's all quite.

Chelmsfordthescapegoat





Posts

: 2572


Join date

: 2009-04-24



Subject: Re: Chelmsford, Pulline. & Durnford Tue Apr 28, 2009 10:00 am

---

I'm only able to use the forum at weekends there is the odd occasion. Due to working away from home.

Chelmsfordthescapegoat





Posts

: 2572


Join date

: 2009-04-24



Subject: Re: Chelmsford, Pulline. & Durnford Tue Apr 28, 2009 8:56 pm

---

As not to lose face.

An extract Captain Essex's Evidence. Rorke's Drift, January 24, 1879. (Note the bold lettering. (Assumed Command )

SIR,
I HAVE the honour to forward for the information of the Lieutenant-General Commanding, an account of an action which took place near the Isandlwana Hills on the 22nd instant. After the departure of the main body of the column, nothing unusual occurred in camp until about eight A.M., when a report arrived from a picquet stationed at a point about 1,500 yards distant, on a hill to the north of the camp, that a body of the enemy's troops could be seen approaching from the north-east. Lieutenant-Colonel Pulleine, 1st Battalion 24th Regiment, commanding in camp, thereupon caused the whole of the troops available to assemble near the eastern side of the camp, facing towards the reported direction of the enemy's approach. He also dispatched a mounted man with a report to the column, presumed to be about twelve or fifteen miles distant. Shortly after nine A.M., a small body of the enemy showed itself just over the crest of the hills, in the direction they were expected, but retired a few minutes afterwards, and disappeared. Soon afterwards, information arrived from the picquet before alluded to, that the enemy was in three columns, two of which were retiring, but were still in view; the third column had disappeared in a north-westerly direction. At about ten A.M. a party of about 250 mounted natives, followed by a rocket. battery, arrived with Lieu tenant-Colonel Durnford, R.E., who now assumed command of the camp.

sas1





Posts

: 629


Join date

: 2009-01-20


Age

: 40



Subject: Re: Chelmsford, Pulline. & Durnford Tue Apr 28, 2009 9:50 pm

---

Other Members here's a simple understanding of the The cover-up

Word of the disaster reached Britain on 11 February 1879. The Victorian public was dumbstruck by the news that 'spear-wielding savages' had defeated the well equipped British Army. The hunt was on for a scapegoat, and Chelmsford was the obvious candidate. But he had powerful supporters.

On 12 March 1879 Disraeli told Queen Victoria that his 'whole Cabinet had wanted to yield to the clamours of the Press, & Clubs, for the recall of Ld. Chelmsford'. He had, however, 'after great difficulty carried the day'. Disraeli was protecting Chelmsford not because he believed him to be blameless for Isandlwana, but because he was under intense pressure to do so from the Queen.

Meanwhile Lord Chelmsford was urgently burying all the evidence that could be used against him. He propagated the myth that a shortage of ammunition led to defeat at Isandlwana. He ensured that potential witnesses to his errors were unable to speak out. Even more significantly, he tried to push blame for the defeat onto Colonel Durnford, now dead, claiming that Durnford had disobeyed orders to defend the camp.

'Many generals blunder in war, but few go to such lengths to avoid responsibility.'

The truth is that no orders were ever given to Durnford to take command. Chelmsford's behaviour, in retrospect, is unforgivable. Many generals blunder in war, but few go to such lengths to avoid responsibility.

sas1

Chelmsfordthescapegoat





Posts

: 2572


Join date

: 2009-04-24



Subject: Re: Chelmsford, Pulline. & Durnford Tue Apr 28, 2009 9:59 pm

---

sas1
All of which is un-founded and speculation to enhance the selling of books.

The extracts from statements myself and S.D are posting are factual and were used in the court of inquiry in to the disaster of Isandlwana 22nd Jan 1879.

Good Night..

Saul David 1879





Posts

: 526


Join date

: 2009-02-28



Subject: Re: Chelmsford, Pulline. & Durnford Wed Apr 29, 2009 9:13 pm

---

Glyn corroborates Clerys Statements. Clery never mentions Durford should or did take commard.

2nd Evidence.—Colonel Glyn, C.B., states: From the time the column under my command crossed the border I was in the habit of receiving instructions from the Lieutenant-General Commanding as to the movements of the column, and I accompanied him on most of the patrols and reconnaissances carried out by him. I corroborate Major Clery's statement.

S.D

sas1





Posts

: 629


Join date

: 2009-01-20


Age

: 40



Subject: Re: Chelmsford, Pulline. & Durnford Wed Apr 29, 2009 9:54 pm

---

S.D Did Chelmsford really believe that nothing was happening at Isandlwana. Came across this article. It sounds like Chelmsford wanted to prevent help returning to the camp.

"Colonel Harness gave orders for his small force of artillery and infantry to return to camp. But it had only progressed half a mile when a staff officer rode up with express orders from Chelmsford to resume its original march because the message was a false alarm. The last chance to save the camp had been thrown away."



sas1

90th





Posts

: 9956


Join date

: 2009-04-07


Age

: 63


Location

: Melbourne, Australia



Subject: chelmsford.pulleine,durnford reply. Thu Apr 30, 2009 4:22 am

---

hi all , came across this gem in ZULU VICTORY; the epic of isandlwana and the COVER UP.....by LOCK & QUANTRILL......

"lord chelmsford and staff, especially col. crealock tried in every way to shift the responsibility of the disaster from their own shoulders onto those of your brother. inspector george mansell, N.M.P. to COL. EDWARD DURNFORD. 23/ NOV/1879... NOW TO CLEAR UP SOME EARLIER POSTS. cheers 90th.

90th





Posts

: 9956


Join date

: 2009-04-07


Age

: 63


Location

: Melbourne, Australia



Subject: further reply. Thu Apr 30, 2009 5:21 am

---

hi chelmsfordthescapegoat
here are some points that we should know about isandlwana.
1. chelmsford went against his own orders, in not entrenching the camp, as he decided the ground was to stony, rocky, and difficult to deal with.
2. it was to be a one day stopover, he was very keen to push on.
3. he left the camp to FIND the zulu, as per dartnell"s message for re-enforcements.
4. no evidence of the zulu army near the camp.
5. last but not least, CHELMSFORD thought the hardest thing would be, to get the zulu to ATTACK !.

your post of 26th april 5.36 pm, deals with crealocks statement which was issued 9th FEB 1879.

on the 27th jan CHELMSFORD wrote to COL. FRED STANLEY, secretary of state for war, his official version of events leading up to the battle.

" an express was sent of to LT.COL.DURNFORD. R.E.,who was at rorkes drift with 500 natives, half of whom were mounted men and armed with breech-loaders to move up to STRENGTHEN the force left to guard the camp"

no mention of to TAKE COMMAND.

90th





Posts

: 9956


Join date

: 2009-04-07


Age

: 63


Location

: Melbourne, Australia



Subject: further reply. Thu Apr 30, 2009 5:39 am

---

this follows on from my previous post.

yet on the 25th aug 1880, CHELMSFORD wrote to THE TIMES in response to an article relating to isandlwana written by GEN. SIR LINTON SIMMONS.(member of parliament)

" in my speech i distinctly stated that written orders were sent to COL. DURNFORD, to move up to "sandlana" camp and take command of it. that order was, i maintain as binding upon COL. DURNFORD as those which a soldier takes over from a sentry he relieves on a post". Funny how this wasnt mentioned in his letter of 27th jan. it seems he is thrown a life line by the crealock statement of 9th feb 79. this information comes from ZULU VICTORY, THE EPIC OF ISANDLWANA AND THE COVER UP. by LOCK & QUANTRILL. cheers 90th.

24th





Posts

: 1845


Join date

: 2009-03-25



Subject: Re: Chelmsford, Pulline. & Durnford Thu Apr 30, 2009 8:33 am

---

Well done 90th.

It looks like Durnford was set-up to take the fall.
The problem is, you have to have a good memory to be a liar. It seems Chelmsford didn't

Saul David 1879





Posts

: 526


Join date

: 2009-02-28



Subject: Re: Chelmsford, Pulline. & Durnford Thu Apr 30, 2009 10:30 pm

---

The discovery of the 'evidence' he was seeking galvanised Lourde into action; he wrote a remarkable letter to Sir Andrew Clarke, Head of the Corps of Royal Engineers. His letter indicates his view that he could vindicate Durnford and the whole (unabridged and uncorrected) text is reproduced below,

Pietermaritzburg
Natal
22nd January 1885

Colonel Durnford

Dear Sir Andrew Clarke,

Some circumstances of a very remarkable nature in connection with the late Colonel Durnford R.E. one of my predecessors here, have been brought to my notice, & I write to you about them because you are the Head of the Corps, & because you are known as a man who has the power to do whatever you consider should be done.
I have also written to Sir Linton Simmons, who was T.G.F at the time when Colonel Durnford's name was so prominently before the public, & to Sir Gerald Graham, whom I believe to have been a personal friend of Colonel Durnford's, if General C.G. Gordon were in England I would write to him also, as I know he was a personal friend, & that this is a case in which he would take a great interest.
If, after reading this correspondence you will confer with Sir Linton Simmons & Sir Gerald Graham, & will let me know what mode of action it has been decided to adopt in this matter, I shall be much obliged, & I beg that you will understand that whatever trouble it may take, or however unpleasant it may render my position here socially, I as a brother Officer & one of the successors of the late Colonel Durnford, am quite prepared to act, if desired, as a local agent in this matter, & to see that justice is done.
But, after due deliberation I have decided that it is most fit to refer this grave matter in the first instance to officers senior to myself.
I have to go back to this day six year ago, when Colonel Durnford was killed at Isandhlwana. Despatches & letters were written, statements & speeches were made & ultimately he was made the scapegoat for the disaster; it is only quite recently that an article by a Military writer appeared in "Blackwood" in which the author was evidently still of opinion that Colonel Durnford was mainly responsible for that disaster to our arms, & this must be assumed to be the general impression both with the general public, & also amongst the great majority of military men, & especially with the latter, as the published official account by the Intelligence Department still conveys that impression.
Prior to the 22nd January 1879 Colonel Durnford received certain orders, & though it was stated soon afterwards & repeated by Lord Chelmsford on the 18th August, & again on the 2nd September 1880 in the House of Lords that Colonel Durnford had received orders to take charge of the camp at Isandhlwana, it subsequently transpired from Colonel Crealock on the 18th may 1882, i.e. nearly three & a half years afterwards by a reference to his note book, that Colonel Durnford had not received orders to take charge of that camp. It must be apparent to any Military man that it never could have been intended that he should have assumed that charge, being at the time in independent command of another column of the army, more especially as not a word appears to have said, either to Colonel Glyn whose camp it was, or to Colonel Pulleine who was left in temporary charge of it, that such a change of command was contemplated! It was also intended to move the camp on up-country as soon as possible.
When Colonel Durnford arrived at the camp, he, as senior officer present seems to have taken cognizance of the state of affairs, so far as it was possible for a man in his position to do, & he stated distinctly that he was not going to remain in camp, an expression of which he certainly would not have made use, had orders been conveyed to him that he was to do so. On the contrary there can be no doubt now that he proceeded on his way to join & help his general in the battle that was supposed to be going on at the front.
However the military authorities refused to allow the question of relative responsibility for the disaster at Isandhlwana to be re opened, & the stigma attached to Colonel Durnford's name never having been publicly removed, will remain till that is done.
But what became of the original order, which was sent to Colonel Durnford? & it is mainly in connection with that subject that I now address you.
For four months the bodies of our slaughtered soldiers laid unburied on the field of Isandhlwana, within eight miles of a British force, & with no one to oppose their burial, but on the 21st May 1879 a cavalry force under General Marshall, composed of the K.D.Gs, the Natal Carbineers, &c., visited the field & buried some of the bodies, including Colonel Durnford's.
In the Natal Witness for the 27th May, & in the supplement of the 7th June, a sentence occurred as follows "after the papers & "maps found on Durnford's person had been removed, a pile of "stones was heaped over the body."
It has been stated to me that this sentence about "the papers "& maps," was originated by a telegram which was received by the Editor of the Witness from a Mr. Dormer, then at Ladysmith, that this gentleman received the information on which his telegram was based directly from the mouth of a Mr. Alfred Davis, one of the proprietors of the Witness newspaper, who was anxious to find the remains of his brother who had fallen at Isandhlwana, that, being at Rorke's Drift in May 1879, & having been a member of the Natal Carbineers Mr. Davis seized the opportunity of one of that Corps being ill to borrow his arms & accoutrements & uniform & accompany the Natal Carbineers, that he found his brother's body & took form the pocket of the jacket his sister's letter, written only a few days before the disaster, which tends to show how little the remains had been disturbed since the battle, that Colonel Durnford's body was found at the same spot & that he Mr. Davis rode past haste to Ladysmith, where he met Mr. Dormer &, being very much fatigued, gave him (Mr. Dormer who was correspondent of another paper) the information for himself, on condition that he would telegraph it to the Witness – which he did.
A friend of Colonel Durnford's, on seeing this sentence in the Witness, went & questioned a certain Theophilus Shepstone about it, having been the officer in command of the party of Natal Carbineers who found & buried Colonel Durnford's body, & his reply was that it was quite a mistake, there was no papers of any kind, & could not have been as there was no coat. So the matter was dropped, the questioner having at that time full confidence in the truth of Captain Shepstone's statement.
But on the 22nd May 1879, i.e. the day after the visit to the field of the battle of Isandhlwana, veterinary Surgeon Longhurst K.D.G. writing home to his friends in England, described the burial of Colonel Durnford at which he had been present, & mentioned amongst other articles taken from his body before burial "a letter". When Mr. Longhurst's letter reached its destination a friend of the Durnford family was present, & heard it read aloud, & Colonel E. Durnford about it, who at once wrote out to Natal to request that enquries might be made. Mr. Longhurst was then in the Transvaal but on his return & before arriving at Pietermaritzburg, he was purposely interviewed by Asst. Comm. General Elmes & he then verbally confirmed what he had previously written home a week afterwards, however during which time he had been in P.M. Burg he declined to answer any questions on the subject.
The K.D.Gs went from Natal to India. Colonel E. Durnford wrote twice, at intervals of six months, to Mr. Longhurst, but these letters were not replied to. A third letter was written & sent to Mr.. Longhurst's Commanding Officer, Colonel Master, to be given to Mr. Longhurst, who then, three years having now elapsed since the battle of Isandhlwana, replied, confirming in the most circumstantial way his previous letter. A copy of this letter was sent to Natal to a friend of the late Colonel Durnford, who, anxious that Captain Shepstone would have every chance of proving his innocence or of confessing privately, stipulated that he should be told privately of the contents of Mr. Longhurst's statement.
Captain Shepstone met with a complete denial. But I am informed that he did not merely say "I took no papers", but added, "I could not have taken any because there was no coat on the body."
Captain Shepstone then wrote to Colonel E. Durnford, & sent the names of four persons, viz. Mr. Royston, Mr. Cook, Mr. Macfarlane, & Yabez Mulife, (a Basuto who had been attendant on the late Colonel Durnford), as persons who would support by affidavit the statement that there was no papers & no coat on the body when found.
Captain Shepstone subsequently forwarded affidavits Mr. Royston, Mr. Cook & Yabez Mulife, but not one from Mr. Macfarlane. On these affidavits being forwarded to Natal they were examined by a friend of Colonel Durnford's, & they seemed in several respects so insufficient & unsatisfactory that further reference was made to Captain Shepstone, who caused Mr. Cook to make a second affidavit.
By this time very grave suspicions had arisen in the minds of the late Colonel Durnford's friends that the original orders sent to that officer had been found on his body & concealed, & enquiries were then set on foot with the view of obtaining further information, especially to ascertain whether the body of the late Colonel Durnford had or had not a coat upon it when it was found.
The result of these enquiries seems to establish beyond a doubt the fact that he had a coat on at that time.
I must now proceed to explain the position occupied by Captain Shepstone. This gentleman usually known in Natal as "Offy" is the son of Sir Theophilus Shepstone, & is a prominent member of the most powerful & influential family in this Colony. He himself is one of the most astute lawyers in the Colony, & is what is termed a general favourite.
The evidence will be laid before you in extenso presently, but I may say that, when it was far less complete than it is now, the case was submitted to an English Barrister who said it was strong enough to take into any English Court of Justice, i.e. in the Natal Court he seemed to doubt whether justice might be so readily obtained against so powerful & public a man.
It was subsequently submitted privately to a trustworthy lawyer in Natal, who gave it as his private opinion that the case was strong enough to justify any judge in requiring the other side to disprove it, & he has since admitted that if the case were brought into Court. Captain Shepstone must be ruined.
Nevertheless, as an instance of the powerful position held by the Shepstone family in Natal this gentleman whilst giving his private opinion as a friend, refused absolutely to have anything to do with the conduct of the case under any circumstances, as, if he took it up, whether he won or lost it, his position would be rendered so unpleasant that he could scarcely continue to live in the Colony.
I had thought of obtaining an interview with Captain Shepstone, with the view of attempting to get to the bottom of this matter, but I am of opinion that I should not be doing right in taking that step. He has had three chances of clearing himself, & has not availed himself of those chances. In fact it is chiefly due to his attempt to prove too much that the establishment of his guilt has been rendered possible. I do not believe that I am at liberty to render myself individually liable to any legal action which the subtlety of the law might devise, a liability which should be born, if at all, by the Secretary of State for War.
The course which seems the right one to take is that I, as representing the Secretary of State for War, should receive authority to engage the services of a well qualified lawyer, who should be instructed in the first instance to have a private interview with Captain Shepstone, lay before him sufficient evidence to convince him, if he is open to conviction, that his case is one which is sure to go against him if brought into Court, & ask him whether he has anything to urge against a criminal information for theft being laid against him personally.
If he then admits the truth of the charge, & states that he is not alone responsible, & can produce evidence which shall be satisfactory, i.e. if he states – his statement being duly supported; that he took these papers & handed them over to some one else, the prosecution might be diverted to some one even more guilty than himself.
If, on the other hand, Captain Shepstone on being interviewed, adhered to his denial, I should have authority to take immediate steps to prosecute him, or take such steps as the law may empower, including the appointment of commissions to take the evidence of those persons in India or elsewhere whose evidence is so important.
I may say that there is one lawyer in Natal in whose ability to conduct such a case & in whose entrepidity to undertake it, regardless of consequences, I should have full confidence, & I should be prepared, if duly authorised, to instruct him accordingly.
But as it is possible that, for some reason or other, at present unknown (for I have not communicated with him.) that gentleman may decline to undertake the case, it would be most advisable that a well qualified should be sent from England with full instructions how to proceed, & who should act, if possible, with the lawyer above referred to, who otherwise would be secured by the defendant.
It is, however, for consideration whether, if prosecution has to be undertaken such action should be instituted in our English Court or in a Natal Court, for it must be borne in mind that several of the most important witnesses are colonial gentlemen who are intimately aquainted with, & are in some cases personal friends of Captain Shepstone & the temptation to avoid the consequences of having been instrumental in ruining that gentleman viz the weight of displeasure which could be exerted by members of his powerful family, might have a deterrent effect in obtaining confirmatory of the statements they have made.
This is a point which should be determined beforehand & on which I should receive instructions, but it is manifest that much care would have to be taken to ensure the arrangements being such as will conduce to success & not to failure.
But, whatever course it is decided to adopt, I wish it to be clearly understood that it is not in the smallest degree from what is termed a feeling of revenge, that any of these preliminary steps have been undertaken.
All who have been interested in this matter have worked from no other feeling than the earnest desire that a gallant soldier who, whatever others may have done, did his duty nobly & well, shall not be defamed. They have felt as I feel that no conduct is more disgraceful, no act more cowardly, than defamation of the dead.
Captain Shepstone is one whose connection with the case must be considered from an abstract point of view. I am only one of a vast number of people who would regard his conviction as a matter most sad in itself, but justice must take its course, &, if convicted he must take on his own head the full consequence of his crime. Something will at all events been done to show what means were adopted to ruin the reputation of as gallant a soldier as ever breathed.

I am
Dear Sir Andrew Clarke
Yours vy truly
C E Luard

Source: Adrian Greaves

S.D

John





Posts

: 2555


Join date

: 2009-04-06


Age

: 56


Location

: UK



Subject: Re: Chelmsford, Pulline. & Durnford Fri May 01, 2009 2:56 pm

---

Wasn't Luard involved in some murder back in the UK

ADMIN





Posts

: 3841


Join date

: 2008-11-01


Age

: 60


Location

: KENT



Subject: Re: Chelmsford, Pulline. & Durnford Fri May 01, 2009 4:03 pm

---

Criticism of Durnford in the General Discussion area covers the Luard subject.

Chelmsfordthescapegoat





Posts

: 2572


Join date

: 2009-04-24



Subject: Haggard gives a factual account of the battle. Sat May 02, 2009 9:02 am

---

Durnford it seemed like taking risk's (With others lifes)

Haggard gives a factual account of the battle in the course of which he ponders why the British forces did not laager their wagons and rely on their superior fire power as "demonstrated by what happened on the same day at Rorke's Drift" with a much smaller body of men. "Why then it may be asked, did Colonel Durnford, a man of considerable colonial experience, adopt the more risky ... mode of dealing with the present danger, and this in spite of Colonel Pulleine's direct intimation to him that his orders were `to defend the camp'? As it chances, the writer of this account, who knew Colonel Durnford well, and has the greatest respect for the memory of that good officer, and honourable gentleman, is able to suggest an answer to the problem which at the time was freely offered by the Natal colonists. A few years before, it happened that Colonel Durnford was engaged upon some military operations against a rebellious native chief in Natal. Coming into contact with the followers of this chief, in the hope that matters might be arranged without bloodshed, Durnford ordered the white volunteers under his command not to fire, with the result that the rebels fired, killing several of his force and wounding him in the arm. This incident gave rise to an irrational indignation in the colony, and for a while he himself was designated by the ungenerous nickname of `Don't fire Durnford.' It is alleged, none can know with what amount of truth, that it was the memory of this undeserved insult which caused Colonel Durnford to insist upon advancing the troops under his command to engage the Zulus in the open, instead of withdrawing them to await attack in the the comparative safety of a `laager'."

Saul David 1879





Posts

: 526


Join date

: 2009-02-28



Subject: Re: Chelmsford, Pulline. & Durnford Sat May 02, 2009 10:55 pm

---

Twice Durmford was made the scapegoat for the shortcomings of others. During the Bushman's River Pass inquiry he was denied the opportunity of presenting his case; military decorum and personal dignity stopped him from seeking redress in public. At Isandlwana a hero's death had sealed his lips. Whatever his failings and shortcomings might have been, no one could ever deny his purity of purpose, his sincerity and charity in the cause of the underprivileged, the needy and the poor - nor was there ever any doubt about his high sense of duty and his personal valour.

Sir Henry Bulwer said of Durnford.

'Colonel Durnford was a soldier of soldiers, with all his heart in his profession; keen, active-minded, indefatigable, unsparing of himself, and utterly fearless, honourable, loyal, of great kindness and goodness of heart. I speak of him as I knew him, and as all who knew him will speak of him'.

S.D

Chelmsfordthescapegoat





Posts

: 2572


Join date

: 2009-04-24



Subject: Re: Chelmsford, Pulline. & Durnford Sun May 03, 2009 10:15 am

---

What some people to fail to grasp, is the fact that Durnford was senior to Pulleine and the command of the camp automatically fell to Durnford.

Durnford's first priority should have been to fortified the position he failed to do this consequently his action left the whole camp undefended.

He then make tracks out of the camp to engage the enemy on the pretends of protecting Chelmsford's column.

Durnford had ample time to make sufficient arrangements to allow the troops to stand their ground with ample supplies of ammunition.
He knew the lines were far to extended and even commented on this. By the time Pulleine had realised this it was to late. Durnford should have brought the British lines back into camp when he arrived in the first instance.

Not only did Durnford refuse to comply with an order to take command of the camp.

He also failed to fortify his position as laid down in Chelmsford standing orders when in enemy territory .

He wasted time.

durnfordthescapegoat





Posts

: 94


Join date

: 2009-02-13



Subject: Re: Chelmsford, Pulline. & Durnford Sun May 03, 2009 12:40 pm

---

The supposition was that the main Zulu force was off facing Chelmsford and the movement in front of the camp was the impi moving up behind Chelmsford. If His Lordship had been caught strung out in the open on 22 January then there would have been an even bigger disaster than there was. Durnford was mindful of this and felt he needed to move to assist Chelmsford.
Pulline must also bear some of the blame for what happened. I agree that Morris's description of him may not be based on fact, yet I cannot accept Col Snook's view that Pulline was the modle of a Britsih officer, efficient cool and collected and capable. (Please note that I in no way question his courage which I am pretty sure was a given amongst all the officers of the 24 and the men).
My impression of Pulline is that he was a bit of a middle management sort of chap. You know give him a task and he would do it, just don;t ask for any initiative. He does not fortify the camp, he blows stand to and thne orders the men to stand down. He orderc forward a company to support the retreating Durnford and so expsoses his flank.
The 24 th were unfortunate that day. They had Chelsford who divided his forces and they had a chap like Pulline in charge of the camp.
I

Chelmsfordthescapegoat





Posts

: 2572


Join date

: 2009-04-24



Subject: Re: Chelmsford, Pulline. & Durnford Sun May 03, 2009 10:21 pm

---

Chelmsford's ordered Durnford to take command of the camp at Isandlwana.
He never ordered Durnford to watch his back.
Durnford should have fortified the position at Isandlwana, this he failed to do. As for Pulline he was only in command until Durnford arrived where upon he relinquished his command.
I have never read any pubications by Col Snoop. So it might be interesting if you could post a section of text which has reference to Pulline.

Saul David 1879





Posts

: 526


Join date

: 2009-02-28



Subject: Re: Chelmsford, Pulline. & Durnford Sun May 03, 2009 10:45 pm

---

CTSG

Why on earth do you keep saying Durnford failed to fortified the position at Isandlwana.
Lord Chelmsford blamed Colonel Durnford for not having fortified the camp. Why, he was there 48 hours himself with the whole of his ammunition for the campaign, and during all those 48 hours he never made the slightest attempt to do what you say Colonel Durnford should have done in four hours.

S.D

Chelmsfordthescapegoat





Posts

: 2572


Join date

: 2009-04-24



Subject: Re: Chelmsford, Pulline. & Durnford Mon May 04, 2009 9:16 am

---

It would not have taken 4 hours to bring the troops back into camp. There was plenty of ammunition. Durnford could have quite easily have formed a defensive square.

Chelmsford did not known that Isandlwana would be attacked and nether did anyone else on that day. He would have been planning his own invasion further into enemy territory.

Chelmsford never intended on the troops staying at Isandlwana. They were their to bring up reserves and ammunition.

The enemy had been sighted a few hours prior to Durnford arriving at Isandlwana, so he could have put preventive measures in place.

John





Posts

: 2555


Join date

: 2009-04-06


Age

: 56


Location

: UK



Subject: Re: Chelmsford, Pulline. & Durnford Mon May 04, 2009 10:04 am

---

Any good commander worth his salt, would have made fortification top priority. Had Chelmsford looked after the troops under him he may well have succeeded with his first invasion.

Saul David 1879





Posts

: 526


Join date

: 2009-02-28



Subject: Re: Chelmsford, Pulline. & Durnford Mon May 04, 2009 10:48 am

---

Chelmsford left the camp with all his ammunition, on a jolly looking for a parade ground, with a hostile army of 30,000 men on his flank." After the disaster at Isandlwand he off flying for his life.

Chelmsford then arrives at the desolated camp at nightfall and leaves before daybreak. So far as the Papers go, he does not seem to have made the slightest search to see whether any of those poor brave, gallant fellows might not be lying in the field dying, if not, perhaps, quite dead.


S.D

Chelmsfordthescapegoat





Posts

: 2572


Join date

: 2009-04-24



Subject: Re: Chelmsford, Pulline. & Durnford Mon May 04, 2009 6:52 pm

---

Lord Chelmsford knew only too well the customs of Zulu warfare; for it is an undoubted fact, established by the evidence of a deserter, as well as by corroborative testimony, that none were spared, and that there were no wounded left on the ground.


Rorke's Drift. There they had an hour's notice that the enemy were about to attack, and that the camp was to be defended. Did Lieutenant Chard say—"Give me some men, and I will go out to meet the enemy?"

Saul David 1879





Posts

: 526


Join date

: 2009-02-28



Subject: Re: Chelmsford, Pulline. & Durnford Tue May 05, 2009 11:37 pm

---

Now we find that Chelmsford trying to pass the buck, on to someone else, we he saw a divide in the ranks when it came to blaming Durnford

Chelmsford stated that, "Colonel Glyn was solely responsible" and, "that Colonel Glyn fully and explicitly accepted this responsibility cannot, however, affect the ultimate responsibility of the General-in-Command".

Chelmsford's staff contributed to the growing controversy by saying that it was Glyn's failure to entrench the camp that caused it to be overrun. As he was commander of the Central Column, the blame should be firmly laid at his door.
S.D

Chelmsfordthescapegoat





Posts

: 2572


Join date

: 2009-04-24



Subject: Re: Chelmsford, Pulline. & Durnford Wed May 06, 2009 11:15 am

---

Chelmsford was stating, that a portion of the blame should lay with Glyn. Which is quite correct.

John





Posts

: 2555


Join date

: 2009-04-06


Age

: 56


Location

: UK



Subject: Re: Chelmsford, Pulline. & Durnford Thu May 07, 2009 6:37 pm

---

Should Chelmsford not have take a portion of the blamel, after all he was the commarder of the British Army.

Saul David 1879





Posts

: 526


Join date

: 2009-02-28



Subject: Re: Chelmsford, Pulline. & Durnford Thu May 07, 2009 7:18 pm

---

Colonel Glyn, the popular commanding officer of 1/24th Regiment, became withdrawn and depressed at the loss of, not just his regiment at Isandlwana, but of so many close friends.

Chelmsford isolated Glyn at Rorke's Drift which prevented him from giving evidence at the Court of Enquiry which Chelmsford convened to consider the defeat at Isandlwana.

littlehand





Posts

: 7072


Join date

: 2009-04-24


Age

: 50


Location

: Down South.



Subject: Re: Chelmsford, Pulline. & Durnford Thu Aug 25, 2011 8:43 pm

---

[You must be registered and logged in to see this image.]

Colonel Pulleine's last message to Lord Chelmsford.

"'Staff Officer - Report just come in that Zulus are advancing in force from the left front of the cam (8.5 am). H B Pulleine, Lt. Col'. The message was received at 9.30 am by Captain Hallam Parr, a Staff Officer in the field with Lord Chelmsford."

Ulundi





Posts

: 558


Join date

: 2012-05-05



Subject: Re: Chelmsford, Pulline. & Durnford Wed Aug 29, 2012 11:30 pm

---

Interesting dicussion. But seriously who was to blame.... It was one of these three.

Mr M. Cooper





Posts

: 2522


Join date

: 2011-09-29


Location

: Lancashire, England.



Subject: Chelmsford, Pulliene, & Durnford. Thu Aug 30, 2012 12:49 am

---

Hi Ulundi.

Without a doubt, Chelmsford.

The other two did not survive, so could not defend themselves at the (rigged) enquiry.

Chelmsford (and others), tried to put the blame on Durnford, and he was made the scapegoat for the defeat at iSandlwana.

Between Chelmsford leaving the camp and Durnfords arrival, there were many reports of Zulu activity around the camp area, but Pulliene did not act on these reports, however, when Durnford arrived at the camp and was told of these movements, he was alarmed by the reports and tried to find out what exactly was going on. He got a report saying that a large body of Zulu's were heading in the direction of Chelmsford, the Zulu's could well have been trying to outflank Chelmsford, so Col Durnford did not have much option other than to find out where these Zulu's were going, and left the camp in an effort to defend his Generals flank.

Don't forget that Col Durnford was in command of a seperate independent column, Pulliene was in temporary command of the central column, and although Col Durnford outranked Pulliene, he stated that he had no intention of taking command of the camp.

After papers were found on Durnford's body, it was proved that Chelmsford never ordered Durnford to take command at the camp, so Chelmsford (and others) lied about this at the enquiry to put the blame on Col Durnford, in other words, he was made the scapegoat.

Martin.

Ulundi





Posts

: 558


Join date

: 2012-05-05



Subject: Re: Chelmsford, Pulline. & Durnford Thu Aug 30, 2012 7:49 am

---

Thanks Martin. I would have gone with Chelmsford.

Frank Allewell





Posts

: 7195


Join date

: 2009-09-21


Age

: 72


Location

: Cape Town South Africa



Subject: Re: Chelmsford, Pulline. & Durnford Thu Aug 30, 2012 10:01 am

---

Hi Ulundi
Would you mind if I played Devils Advocate for a while and offer up a case for all three.

Chelmsford is blamed for primarily three areas.
1) Failing to fortify the camp.
Realistically The ground is so hard its virtually impossible to dig in. Shortly I will post some pictures of soil erosion that exposes the ground.
The wagons were going backwards and forwards so could not be used to form a larger.
Possibly sanguins could have been built on the rocky ridge area.
2) Splitting his forces.
He had very little option here. Dartnel had initially opted to stay out of the camp that night ( against orders). He had then decided he would attack the impi the next morning. This change when he lost confidence in his troops, hence the late night/early call for assistance. Chelmsford had to go to his aid.
3) No appreciation of his enemy.
This is probably his downfall. He had ignored all advice on how to fight the Zulu. He was fully convinced he would have a problem bringing the Zulu army to battle. To a degree he was then influenced by Dartnell into believing that he, Dartnell, was in contact with the main impi.

Pullein

His blame is more often than not directed towards his inaction and wrong decision making.

Again he woke up in the morning to find his CO riding of to engage the main army. The last thing on his mind was an attack on the camp.
When events started to unfold he was non plussed and I believe struggled to understand the situation correctly. This probably could be put down to his lack of combat experience.
To the last minutes he still believed he was in control. "Oh what a fool a fellow is, if we had stayed quite and brought them on we could have given them a sound thrashing." This said around a half an hour before his camp was decimated.

Durnford.

Probably the easiest and yet the most difficult one of the three to place.
He had been receiving regular orders from Chelmsford about his forthcoming roll. Only the previous evening he had been in communication with Chelmsford through messages passed by Shepstone.
When he received the call to move forward with his column, to his mind it was to follow pre determined orders. Not to stay in the camp.
At the time he was in the camp, it wasnt under threat, the Generals column arguably was however.

My issues with Durnford would be, his ( like the other two) failure to recognise the threat. His riding of into the sunset, ostensibly to engage the enemy but leaving behind the rocket battery. When he made contact instead of that rather vain attempt to slow down the left horn ( why bother? ) he should have got back to camp as fast as possible, taken charge and arranged the defence.

Just some thoughts, grist to the mill, to rip apart.

Cheers

Chelmsfordthescapegoat





Posts

: 2572


Join date

: 2009-04-24



Subject: Re: Chelmsford, Pulline. & Durnford Thu Aug 30, 2012 11:14 am

---

No argument from me, except please remember the Good Lord Chelmsford wasn't at Isandlwana. He is in no way to blame.

Sponsored content






Subject: Re: Chelmsford, Pulline. & Durnford

---

| | |
| --- | --- |
| Chelmsford, Pulline. & Durnford | |